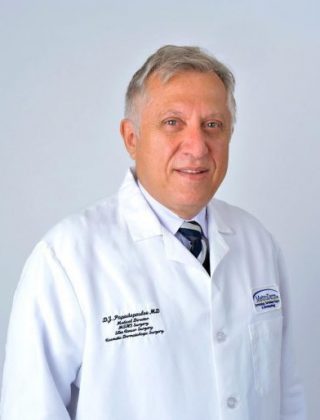 Dr. Diamondis Papadopoulos
Dr. Diamondis Papadopoulos has served as medical director and partner at MetroDerm P.C. since founding the practice in 2003. In addition to his specialty in Mohs micrographic surgery, Dr. Papadopoulos is an expert in cosmetic dermatology and hair transplantation. Dr. Papadopoulos is also nationally and internationally recognized for his contributions to the field of Mohs micrographic surgery. 
1982 – M.D Degree – University of Athens Medical School
1983 – 1986 – Pediatrics Residency – Emory University
1986 – 1989 – Dermatology Residency – Emory University
1989 – 1992 – Practiced private dermatology
1992 – 1993 – ACMS fellowship in Mohs Surgery and Dermatologic Surgery at the Scripps Clinic and Research Foundation (La Jolla, California)
1994 – 2003 – Co-director of the Mohs Micrographic Surgery and Dermatologic Surgery division of the Department of Dermatology at Emory University
2017 – Partnered with ACCR to form MetroDerm ACC Research, LLC.
Name:
Dr. Diamondis Papadopoulos
Title Principal Investigator
Speciality
Dermatologic Surgery